Creative and Performing Arts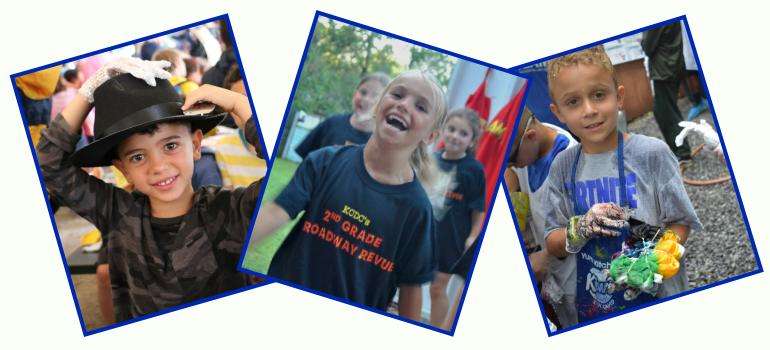 The Creative and Performing Arts program at Kiwi Country Day Camp unlocked each campers'  creativity and helps to develop one's talents under the guidance of of our talented staff of Artists, Performers and Musicians. Our goal is to unlock the imagination and talents inherent in all of our KCDC campers.
Kiwi Country Day Camp offers a wide variety of age-appropriate specialties such as drawing, painting, ceramics, jewelry making, mosaics, fiber crafts, along with general arts and crafts activities. Our program fosters a unique appreciation of the arts that is delivered in an age-appropriate setting.
Our Kiddie Village Arts and Crafts programming provide a strong base for Campers to experience different art materials and media, and explore their own creativity while learning about color, texture, shape and form.
For our traditional camp we offer a more in depth art experience.  Our expert staff emphasizes the importance of introducing our campers to various materials and techniques while continuing to develop their artistic skills.  Campers ages 8 and up can elect to work on more elaborate and involved projects during their specified Elective or Special Interest Group (SIG) time.

Music
Our music building (with a wrap-around deck) is the perfect setting for our campers to explore a wide range of musical instruments. The KCDC  music program is designed to encourage  each campers' musical development. Instruments such as drums, guitars, xylophones, keyboards, tambourines, boomwhackers and shakers keep even our youngest campers interested.
Our experienced staff  combines music theory along with creative movement and songwriting. Campers are taught spirited camp songs from the KCDC song book, and can be frequently heard singing all over camp. Campers that are interested in a more in depth musical experience can selected it for as their Special Interest Group (SIG) where they can learn to play an instrument, read music, or rehearse for the talent show or musical production.

Theater
KCDC's summer theater is one of the premiere programs in the area. We provide a wonderful outlet for campers to express themselves through improv, skits and various theater games.
Those campers who truly enjoy performing can choose to be a part of Kiwi's theater production. Under the direction of our Theater Specialist, the campers help to produce the entire play from costuming, props, acting, singing and dancing.
Cooking
Cooking at camp is a fantastic way to get kids interested and even excited about different foods. Kids have the opportunity to create recipes and meals while having fun. In turn they learn about important math and reading skills as they follow recipes and measure ingredients. Children also learn about food safety and meal planning skills as we infuse good nutrition and healthy choices in a very fun, interactive way.
Video Production
This program teaches campers the basics of scripting, shooting, producing and editing video. Equipped with GoPros and iPads, campers can put together short videos and commercials.
Ceramics
Campers learn the basic techniques of making projects by hand, then graduate to the potter's wheel, where they lear the art of "throwing." All projects are glazed and fired in our professional grade kiln.
Woodworking
The woodworking shop contains a full complement of power tools and hand tools that are used by campers of all ages, under careful supervision, for various construction projects.
Science & Nature
At Kiwi Country Day Camp our "Wonderworks" and Nature programs are designed to inspire kids to get outdoors, help wildlife, and become more aware of the nature in their neighborhood and community. Kids learn about nature and science through observation, storytelling, creative projects, and exploration. Our campers gain greater respect for all living things and become more caring and ecologically conscious.
We have farm animals, reptiles, small mammals, amphibians, insects, and fish!
We teach through scientific exhibits.
Campers enjoy nature walks and exploration.
Campers will learn gardening techniques.
Campfire cooking and outdoor survival are also taught.